Are you thinking of living in Christchurch in 2022?
Relocating to a new region is never a straightforward assignment.
This can be made especially tricky when you do not know a lot about the area you will be moving to.
If you have decided to start living in Christchurch then this is the perfect blog for you!
Much like moving to any new location, there are several things you must consider before you start thinking about living in Christchurch.
We are very aware that the relocating process can seem extremely daunting!
If you are thinking of living in Christchurch in the near future, we are here to put your mind at ease.
In this article, we hope to give you an improved understanding of what living in Christchurch is like.
Gathering a well-educated understanding of what you can expect when living in Christchurch will undoubtedly help with your decision to move.
Here are some great reasons to start living in Christchurch in 2022!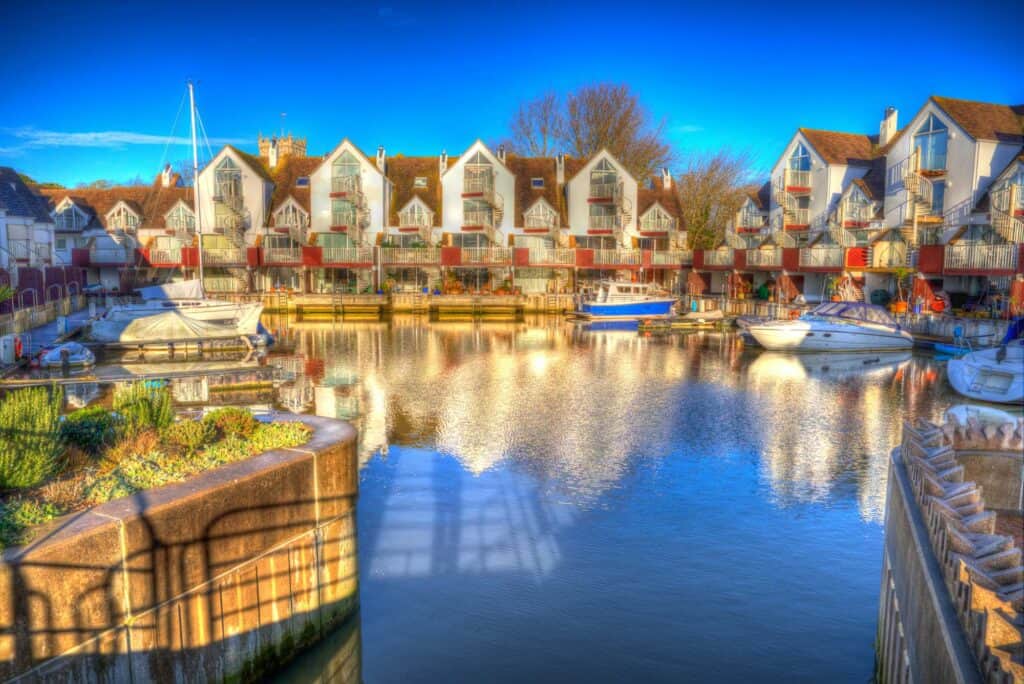 House Prices
Christchurch's property market offers buyers a great range of styles.
This includes everything from Georgian, Tudor, and Victorian properties, as well as more modern homes.
Location is always important when moving to a new home.
Living in Christchurch provides some outstanding river or ocean views.
The town is also very commuter friendly!
The lively town centre lies within easy reach of the local train station and a whole host of amenities.
If you are thinking of living in Christchurch bear in mind that properties are on the expensive side.
According to the UK Land Registry, the National UK average for a home currently stands at £251,500 whilst Christchurch has an average of £424,996.
You can expect to pay an average of £571,085 for a detached property, with prices sitting at £241,588 for a flat.
The town centre development, Priory Quay, is situated in the heart of the town on the banks of the River Stour and Avon.
This development offers some of the finest views on the south coast.
However, you can expect to pay around £1,500,000 to live in this premium location.
Things to do When Living in Christchurch
Christchurch's excellent location ensures that there is an amazing range of things to keep you busy.
With the stunning Jurassic Coast and the beautiful New Forest National Park on your doorstep, living in Christchurch is an excellent location to get out and explore.
Christchurch Harbour is another top spot to visit.
Sitting halfway between the Solent and Poole Harbour, the harbour provides access to one of the most popular areas for boating along the whole south coast.
Living in Christchurch offers a choice of six beaches, each of which has its own draws.
Some of the town's beaches are aimed at families whilst others are less commercial.
Living in Christchurch even caters for dogs, with a couple of local beaches allowing dogs throughout the year.
A day at the beach is always fun!
Watermans Adventure Park and Eight Below Zone has special play areas perfect for toddlers and young children.
The adventure park offers a fun, safe and educational location to allow children to play.
Enjoy endless walks along the quay, spotting a range of birds and even stop off at the splash park!
You can hire a boat for the day and revel in a bit of fishing or swimming.
When you tire of water-based activities, head to Bournemouth for a spot of shopping.
This is a great way to spend the day!
Nearby Bournemouth is also renowned for its exciting nightlife.
There are a huge number of clubs, pubs and restaurants, with the town being a favourite for hen and stag nights.
Getting Around
Living in Christchurch provides some excellent transport links, both locally and nationally.
The town is conveniently served by public transport, making getting around particularly easy.
Regular train services connect residents with London in just 2 hours!
Southampton City centre can be reached in around 20 minutes and Bournemouth is a short trip of 7 minutes by train and 5 miles by road.
Clearly, living in Christchurch provides locals with ideal transport links!
Schools
If you are thinking of living in Christchurch with children this is the section for you!
When living in Christchurch, schools fall under the jurisdiction of Bournemouth, Christchurch, and Poole Council.
There are two infant schools, two junior schools, five primary schools and three secondary schools within the town.
Most primaries in Christchurch are rated as "good" by Ofsted.
Christchurch Infant School having been given the distinguished "outstanding" report!
Secondaries for those living in Christchurch also have good reputations.
There are two Ofsted rated "outstanding" in the town, Twynham School and Tregonwell Academy.
The Stable School and Bournemouth Collegiate School are available if you prefer to send your child to an independent school.
There is also an excellent selection of further education colleges nearby.
Bournemouth & Poole College is one of the most popular in the area.
A well-regarded educational provider, delivering further education, higher education, and community-focused courses.
Bournemouth & Poole College is one of the larger British colleges, with thousands of learners attending every year.
Ready to Start Living in Christchurch?
Are you thinking of living in Christchurch?
Whether you are moving for the outstanding range of properties, top quality schooling options or the range of excellent things to do, living in Christchurch is an excellent choice!
If you have made up your mind and are ready to move, we are here to help you get your move to Christchurch underway.
Here at Curtiss & Sons Portsmouth, we are an experienced and professional removals company that has been helping people moving home since 1871.
If you need any help or advice on moving home or perhaps you have some questions about your house removals, you can get in touch with us on 023 9298 5830 and our friendly team is here to assist you with your enquiry.