Are you moving soon and need a moving house checklist to help you organise your move?
Heading to a new home can be overwhelming and if you are feeling overburdened by everything you need to go through before the move-in date, don't be scared because we're here to help you.
We've put together a checklist for moving house that is available onsite and that can be also downloaded and printed. The checklist is designed to take you through all the things you need to do from two months before the move-in date to the day of the move.
You can download our moving house checklist – a printable PDF here to help you organise your house move.
Our Ultimate Moving House Checklist to help you move
When you are expecting to move to your new home and a move-in date is set, we're sure you are eagerly awaiting and looking forward to moving into your new property. There's a lot to do before you get to that moment and we're here to guide you all the way so that everything goes as smoothly as possible.
Two months before you move
When there are two months at hand, you need to carry out few admin tasks as well as some other jobs.
If you are renting, make sure you've given notice to your landlord within the appropriate notice period as you have to abide by that unless there is a break clause in your contract. Also, don't forget to inform them using the proper process as in your contract.
Conduct a proper investigation in the area you're moving to. You might have done some research before for choosing where to live. However, this can be the point where you'll notice the smaller things such as GPs Surgery, Dentists, supermarkets, restaurants, theatres, sports centres, etc.
You can start decluttering at this point. It's very helpful to get rid of things you don't need at your new place before you move there.
Notify your landline and internet providers about the change of your address and confirm if they can provide service at your new home.
Don't forget to start collecting free packing boxes from family members, friends, colleagues, or websites like Freecycle or Gumtree.
One month before you move
At the one-month mark, you should start packing as well as getting everything sorted on the admin side of the move.
Select a moving company – It's better to do this after you've started packing and have an idea about how much stuff you will be transporting.
Check out how moving vans will be able to access your old and new home. Whether there are any parking restrictions at either of your addresses.
Change your address by contacting the HMRC. You can do this through your company. Hence check if this is the case.
You need to register to vote at your new address and also register with your council for council tax.
Purchase moving insurance to cover the damage that can occur to your belongings during the move.
Organise plans to transfer your rental insurance/homeowner and contents insurance to your new address.
Make a list of your home's inventory and take photos of your belongings if required. This way you'll know their condition and if any damage is done during the move.
Spend some time arranging your outside areas, such as the garden, shed, and garage, removing any unwanted items.
To have your mails uninterrupted arrange a post redirection with the Royal Mail.
Two weeks before you move
There are only two weeks to go and you should start to organise your packing.
This is the time when packing starts in earnest. Anything that's not necessary in the next two weeks for example seasonal items and spare items should be packed. Label all your boxes with the item's name and their destination room.
You should be careful about the food you buy from this point because you've to cook all your frozen food. Make sure you don't transport food unnecessarily during the move and buy only what you need.
Have your car serviced and checked so that you don't have to stress and move confidently during the transfer.
It might be necessary to arrange childcare or pet care for the day of the move. This will go a long way to keeping you relaxed on your moving day.
Provide copies of your children's school records to their new school and register for the GP at your new address.
Contact the DVLA for changing your driving licence. Also, make sure to change the address on your Vehicle Registration Form.
Try to set up your moving date on a holiday or request time off work for the moving day if necessary.
Book a storage unit if needed.
One week before you move
The things you need to take into account the week before you move to your new address.
At this point, you need to confirm the exact date, time, and location with your moving company and other information they might need.
Pack a moving day survival bag or box that will contain your essentials. This can include a change of clothes, blankets, snacks, and toiletries so that you don't need to go through several boxes on your first night at your new home.
Start disassembling the furniture you can so that you can easily load them into your van on the moving day.
In case you're renting your property, don't forget to set up a time for a final inspection with your landlord.
Dismantle as much as you can, take down pictures, and remove any fitted items that you wish to transfer.
Don't forget to redirect your TV licence otherwise it won't automatically change to your new location.
Arrange to repair scrapes, scratches, nail holes, and marks in the house you're leaving.
If necessary, arrange a locksmith to change the locks at your new property.
Three days before you move
With only three days left, these are the tasks you need to carry out before the move.
Label all your spare keys and arrange the old house keys in a separate keyring.
Do your laundry so that you don't have to carry unclean clothes to your new house.
Organise your documents and valuables in a separate box and move them under your supervision.
Create a list of the contact names and numbers of people and services you'll be necessary for the first few days.
Contact the utility companies e.g. gas, electric, and water, inform them of your moving date and new address. This has to be done with at least 48 hours' notice.
Make sure that you disconnect the appliances you're taking with you e.g. the washing machine, cooker, dishwasher, etc.
Throw away food items that have expired or you don't want to transfer. Pack all of your long-lasting foods carefully and tightly so that they won't spill during the move.
Create a library by taking pictures of the back of your electronics before disconnecting. This way you can easily set them up in your new home.
Remember to find out when you will get the keys to your new house.
Make sure that you empty and defrost your fridge/freezer.
Moving day things to do
Here are the most important things you need to do at your old home and the new one.
Clean your home before you leave it.
Instruct the loading on your moving van strategically. As your boxes are labelled, organise them in the van in sections.
After everything has been packed into your moving van, check your home before you leave it. Inspect all drawers and cupboards in every room.
Ensure that all windows and doors are locked and secured when you leave. Take a note of all meter readings.
Take pictures of the empty rooms and fitted things to serve as proof of the state of the property when you moved out.
When the transfer is complete return the old property keys to the relevant party and checks if your utilities are working.
Don't forget to check your moving van for anything that's left behind and secure your moving bag with your essentials.
Set up your key appliances e.g., the fridge and freezer, washing machine, etc.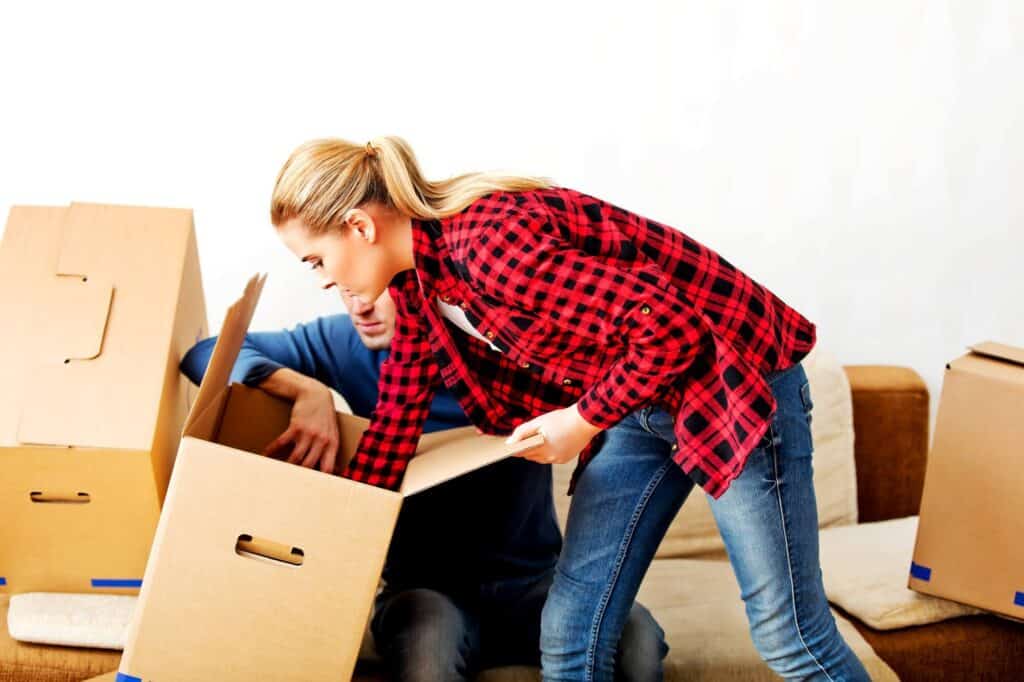 Moving day essentials box packing list
On the day of moving these are some essentials you need to safeguard and move under your supervision.
Important documents e.g. passports, birth certificates, etc
Medication
Credit cards
Phone & charger
Laptop, tablets & charger
A change of clothes for each family member
Snacks & water
First aid kit
Coffee, teas, and sugar
Mugs and cutlery set for each family member
Toilet paper
Jewellery
Flashlight
Paper towels
Tape measure
Bin bags
Toolbox
Cash
Any other valuables such as heirlooms or irreplaceable items
We hope you have enjoyed reading the article and find it helpful. If you have any questions regard your house removal, you can contact us on 023 9298 5830, our friendly team is always happy to help.