Millions of us have made house moving mistakes in the past, often on more than one house move. Even the most organised planners among us can easily miss something or not foresee some eventuality.
Before you start planning for your next move, have a look through our top 9 mistakes that people make when moving house. There's an enormous amount to think about when moving house, so to avoid missing anything important, planning is essential, and the sooner you start thinking about it the better.
Check out our useful article on the moving house checklist, which you can download and print the PDF version to help with organising your house move.
Moving House Mistake #1 – Choosing A Bad Time to Move
Sometimes it's not within our control when we choose to move house. Timing can often be a matter of chance, and house moves are notoriously delayed by a million different things going wrong, but where you can plan a suitable time to move house, you should.
You should try and avoid times that coincide with other stressful events, such as starting a new job for example. If you have children, you should also be mindful of key points in the school year like around exam time. Consider not moving to a new town or country in the middle of a school year too.
Moving House Mistake #2 – Not Creating a Moving Calendar
As soon as you have decided you want to move house, you should start making an initial plan, or calendar, to chronicle key events for the move.
Initially, it doesn't have to be overly detailed, and it can be a flexible document that could well change over time as it needs to, but you will find the very act of sitting down and planning will allow you to visualise what's ahead. You will have a much better chance of not missing anything critical.
If this is your first move – perhaps you are moving into your first home, you will soon appreciate there are many things that need to be done well in advance of the big day itself.
Moving House Mistake #3 – Budgeting Errors
Moving house is expensive. There are fees to estate agents, solicitors, and removals companies. We generally have a figure in mind of what it is going to cost us to move house, but a mistake that many people make is not planning when various bills must be paid.
You need to factor this in early into your own finances so that you know what costs are coming and when.
Moving House Mistake #4 – Not Having A Proper Clear Out
It is always a good idea to start the process of clearing your old home out well in advance of your move. You will always feel you could have done more before moving day, so try to declutter early.
A good approach to clearing out old stuff, whether you sell, donate or bin it, starts with clothes first, then books, then non-important items, and finally sentimental belongings (if any). See our article on decluttering your home before moving here, it will give you some tips on clearing out your house.
Moving House Mistake #5 – Not Starting Packing Early Enough
You should also start getting things boxed up as early as possible, without leaving yourself unable to live before the move. A bit of planning helps here, so really think about what you are not likely to need for a while and get it in a box!
Kid's books and toys are a great place to start – they can only read one book at a time, and most kids these days have many toys that don't look at for weeks at a time. Keep their favourites out and file the rest!
Next target anything that is not essential – ornaments for example. Look around your living areas and think 'do I really need all these cushions/throws on display until I move out? It's similar with clothing too – anything that's not in season can get packed up.
Any storage areas in your home should be packed at the earliest opportunity. These tend to be full of things you don't need very often, so go through the shed, the garage, the loft and keep out only what you think you will need in the weeks leading up to moving.
Moving House Mistake #6 – Moving Without Professional Help
Moving house successfully can be done without using a removal company, many of us have carried out a move ourselves, and for local smaller moves, it can often go smoothly. However, there are obvious drawbacks to doing it yourself.
Professional removal companies are experienced at packing safely and capably. They know the packaging materials and techniques to use and are proficient at loading quickly and efficiently. They also have easy access to larger vehicles that are required for most moves, meaning you don't need to make numerous trips in larger ones.
If you have children, packing and moving can be especially challenging, and having a reputable removal company to take that stress away is vital. It's also important to bear in mind that things can (and very often do) go wrong on the move day itself, and planning for this is something many reputable companies can help you plan for in advance.
Moving House Mistake #7 –  Not Researching Your Removals Firm Properly
Employing any company to carry out work for you is a risk. We have all been there, whether it's a new kitchen that turned out to be of poor quality or a badly fitted carpet, none of us want to get into a position where we are struggling to get satisfaction from a company after the event.
Moving house is one of those things where you only really get one chance at it, so the emphasis should always be on avoiding problems that may turn out to be very costly or even disastrous later on.
Cost is always going to be a consideration when moving house, but you should always find the right balance for you between the price you pay and the service you will receive.
Furthermore, the Internet is littered with stories of homeowners who were let down at the last-minute removal companies going bust, leaving them financially worse off, and with no one to carry out their move.
The first place to start when choosing a removals company is by studying their feedback. No firms have a completely clean sheet here, there will always be someone they have upset along the way, particularly if they have been trading for some time, but on balance how does their service come across to the public?
Also, check if the company is a member of the British Association of Removers (BAR). The BAR conducts regular audits and ensures removals companies adhere to strict standards and regulations to maintain membership.
Not only will they be more experienced, but should something wrong, BAR members will offer dispute resolution procedures in place to resolve complaints.
When you start narrowing down companies, do your due diligence, and ask for a survey, check their insurance details and payment options to see if they are a good fit before going any further.
Finally, don't neglect the finer details of any contract you may sign with them – what are their parking arrangements if permits are required at either end of the move, what is their delays policy, and how do they deal with complaints should the need arise.
Ask them about costs and recommendations for packing boxes and any extra services you may need.
Moving House Mistake #8 – Forgetting to Set Up Utilities in Your New Home
Unbelievably one of the most common things people reports as mistakes when moving house, is not setting up their new home.
Gas and Electricity are usually not forgotten but remember you should really let your energy company know when you are planning to move as soon as you know the date.
Read the meters on the day you move out of your old home and give your supplier the new address, so you don't miss any future bills.
You should also inform the local authorities that collect your council tax about your plans and try and do this at least a month before the move.
Broadband is the one utility that people tend to make inadequate preparations for. Every year around a million Brits who have moved house wait an average of 8 days to be re-connected to their internet.
This used to be an annoying inconvenience, but today with so many people working partially or entirely at home, it's a much bigger issue.
Speak to your provider well in advance of your move and find out whether they offer their service in your new home, or whether you will need to move supplier.
Moving House Mistake #9 – The Move Itself
Once you start the practicalities of moving itself, there are still many pitfalls that you can fall into. Although a lot of it is common sense, it's a good idea to familiarise yourself with the mistakes people make moving in advance. These include:
• Not Measuring Furniture in Advance
It sounds so obvious that it's not worth mentioning, but many people are so focused on arranging their removals company, moving their utilities, and actually completing the house sale that they neglect to consider the dimensions of the property they are moving to.
A good survey will remove any worries you have of furniture not fitting into the vehicles you are using for your move, but make sure that all of your belongings are going to fit at the other end of the move too.
• Refusing Help
Moving house is not a time to be proud. Any help you are offered from friends, family or indeed work, you should take. Don't be afraid to direct and co-ordinate help either, and don't be afraid of accepting advice and guidance from anyone who has more experience of moving than you.
• Forgetting a Moving Day Survival Kit
Your Moving Day survival kit is basically a box that contains anything you think you might need for the moving day itself, either for the packing and the journey; or for the first few days after moving into your new home. You are bound to forget something, so here's a useful list of items you may wish to include:
• Toiletries
• Clothing
• Kettle, tea bags, and milk
• Mugs
• Phone and device chargers
• Bed linen and pillows
• Clothes hangers
• Safe folder for all important moving documents
• Bin bags
• Paper towels
• Cleaning products
• Cooking utensils
• Bottled water
• Snacks
• Pet food and journey supplies (leads and collars)
• Non-perishable foods
• Sanitary products
• Soap
• Towels
• Toothpaste
• First aid kit and painkillers
• A basic toolkit (especially if you know you need to re-assemble furniture)
• Entertainment for the kids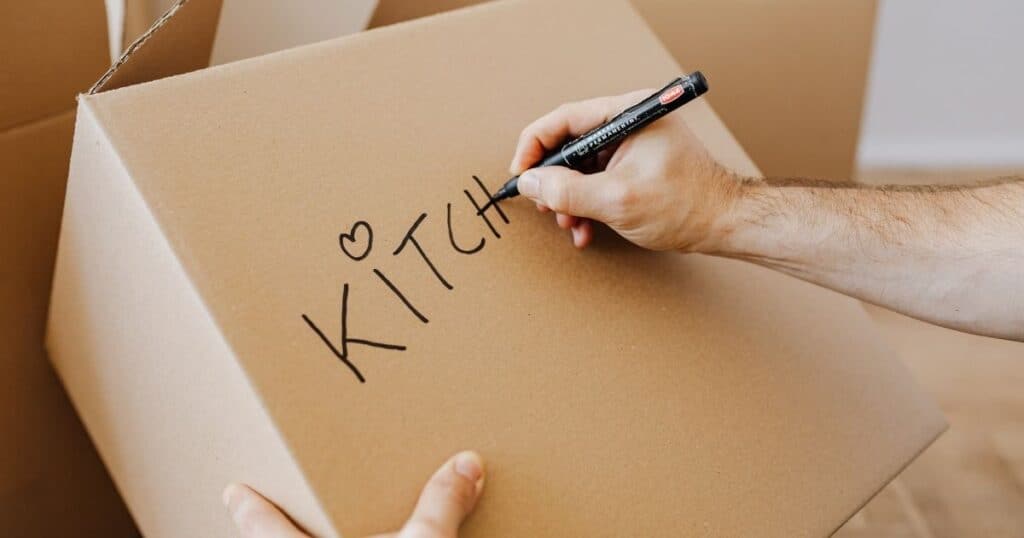 • Not Labelling Moving Boxes
Labelling boxes would of course seem like the most basic of common sense when it comes to moving house, but it's surprising how many people have listed this as one of the house moving mistakes.
Label as you pack and try and keep related items together to make the process of settling into your new home easier.
• Not Using Good Quality Packing Materials
You may feel that removals companies try to upsell packing materials to you, but they advise you what they feel you need for a reason. There are two main considerations when choosing the packaging for your move.
Firstly, you want to protect your fragile items when moving house. Anything fragile should be packed securely and not free to roll around in a box on-route. This means as well as suitable boxes, you should also invest in some decent protective material, such as bubble wrap, tissue, and paper.
The newspaper will do for padding out many of your belongings but consider how to deal with items that stain easily – paintings or artwork for example. Don't forget to buy decent tape to seal boxes and consider 'fragile' tape to make it obvious which items are breakable.
Secondly, you need to make sure any boxes that you use are strong enough to carry the weight you will put into them – the last thing you need on moving day is to cover the pavement will all your breakable treasures.
Try and avoid overpacking where possible, but some things are just heavy even when packaged individually.
Not all of your packing material needs to be of premium quality but try and estimate how many double-walled boxes and how much bubble wrap you might need.
• Not Packing Things in the Right Order
Everyone's move is different, and therefore the order in which you pack things can vary from person to person. There is a couple of 'rule of thumb' type suggestions that usually prove to be helpful, however.
Many experienced movers advocate clearing out your house from top to bottom in that order. It helps to be methodical on moving day, so you don't forget anything
Regardless of what order you attack the rooms in, generally start with the larger items (furniture!) and work your way down. You should have done most of the packing well before moving day, so hopefully, most of your belongings are safely boxed up already.
Good Luck!
We hope you have enjoyed reading this post and it has given you some ideas for preparing for your move. If you would like to talk to us about getting a free removals survey, or just want some advice, feel free to contact us today on 023 9298 5830.