Moving house is often described as one of the most stressful things any of us will ever do.
In the UK, the average number of house moves is eight in a lifetime, however, this increases to eleven in America.
Moving to a new home can be a daunting task for many people; having to arrange shipping or storage of your valuables and possessions can also be overwhelming too.
It would be a very good idea to declutter as much as you can before the big day.
We hope this post will help you look at decluttering from a logical point of view to make the moving house process run as smoothly as possible.
Decluttering can also bring several other benefits such as saving time and more efficiently packing; and possibly even a little extra cash if you consider selling some unwanted items.
You'll also save money by not having to transport unnecessary items, as the number of things you want to move will determine the size of the vehicle required for your move.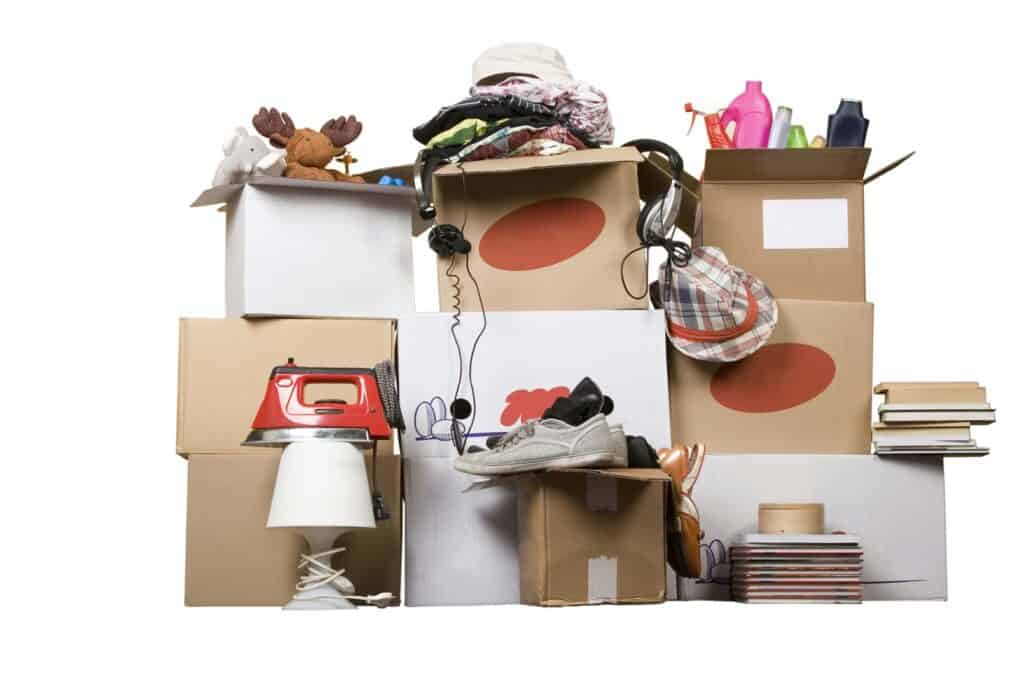 Get Organised And Start Clearing Out
Before starting to declutter your home, set out a plan of action.
This should include which rooms you want to work on (consider the loft or basement first.) An allocated time to do your organising (say one hour or two hours every Saturday), and the packing materials you will need.
This could include boxes, labels, and some cleaning materials.
It's a good idea to sort the items into different categories such as keep, throw away, or sell, etc.
This way you can easily keep track of what you'd like to do with your items.
As mentioned above, you should always consider starting with the attic, basement, or garage.
These rooms can tend to become dumping grounds for unwanted or unused possessions.
This means they'll probably present the biggest challenge to you when you begin decluttering. Once they are cleared out, these rooms will be a good selling point, so make sure they're kept tidy for prospective viewers.
Once you've set out your plan it's time to start decluttering.
With any item apply a few simple tests to it to decide if you need to keep it or not.
Do you use it regularly? Does it still work? Will you use it in the future?
Sentimentality can play a big part in your decisions, but it is one of the things that will lead to unnecessary clutter.
A recent survey by CompareTheMarket found that 56% of women and 43% of men struggle to get rid of things that are sentimental to them.
Because of this try and consider what you actually need and override the feelings of sentimentality.
Moving house can be a real challenge so try to remain as pragmatic as possible!
Sell Or Donate Unwanted Items
Getting rid of large furniture can be easily done when it comes to decluttering.
If you have got a couch, a wardrobe, or a bed that you don't need in your new home, then get rid of it!
If it is still in good condition, consider advertising it on websites like eBay or Gumtree.
This will help to cut down your possessions for moving. Another option is donating your unwanted furniture to a local charity shop that will come and collect your donation.
Remember to measure your new home (if you can.)
This will help you to decide if any items that are unsuitable for your new home.
For example, if you have a wardrobe that you love but it won't fit into your new bedroom then the time taken to disassemble and transport it will be a total waste, so think about your new surroundings as well as your current ones.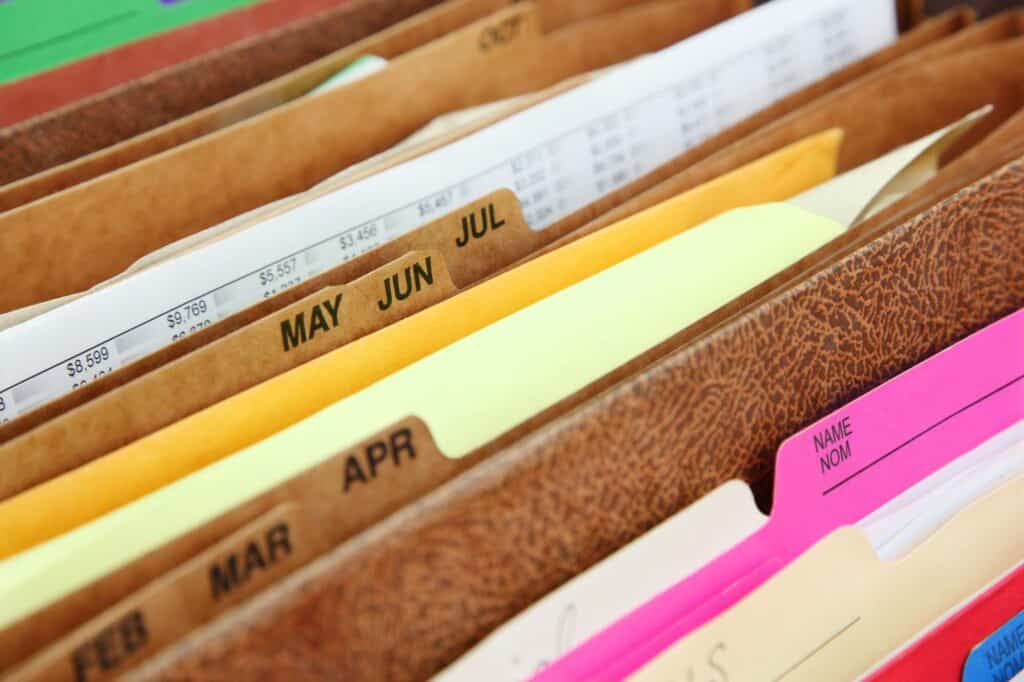 Storing And Sorting Your Paperwork Before Moving House
Paperwork can be a huge source of clutter in the home, and moving it may be an unnecessary use of your time.
When sorting through your old paperwork first look for things that are out of date; there is no need to hang on to the insurance policy for the car you sold three years ago!
Once you've sorted the things that you need to keep, consider storing them electronically, either by scanning or taking photographs of them and backing them up to a hard drive or cloud storage.
Once this is done you should only be left with those items that you need to keep.
Buy a ring binder with some dividers and clearly label everything so it's all in one place and easy to find should you need it in the future.
Now that's done remember to shred your old paperwork and dispose of it securely.
You can also choose the option to go paperless with future bills to prevent a paperwork buildup in the future.
Only Buy What You Need And Use Up What You've Got
Once you've cleared out everything you don't need, and the date of your house move is edging ever closer, it's very important to stop buying more stuff.
Instead of buying new items, try and use up what you've already got!
This will save you a few extra pennies, which always helps during a move.
It will also mean that there's even less stuff for you to organise and pack.
You should also give some consideration to what you need to pack ahead of time.
Things like your toothbrush and phone charger can wait until the last minute for example, but pictures and some of the furniture can be arranged ahead of time.
You could even consider renting a storage container for a month or two at this point if you really wanted to clear the house out ahead of time.
Everyone finds moving house challenging so do not stress too much about being ahead of the game!
Label Your Boxes Sensibly And Pack An Essential Bag For The First Night
Moving house comes round quickly!
Once you have started packing it'll be very important to remember to label up your items just for your own sanity when you get to your new house.
By doing this you'll know which boxes need to go to which room which prevents unnecessary sorting and moving.
A top tip here – remember to label up your boxes on the sides as well as the top so they can be read when they're stacked!
Also, consider a separate essential bag with some of the most essential things in it. A phone charger, toothbrush, toothpaste, bedding, some fresh clothing, etc. Pack any key items you will need on your first night in your new home.
Hire A Professional Removal Company To Move House
Always remember too that help is available.
Not everybody has the organisation skills or time to dedicate to a full home declutter and move, but there are removal companies out there who can help you through the whole moving process and arrange the transport of your possessions on the day you are moving house.
If you are planning a house move in Portsmouth and would like some expert advice on packing your belongings, please do not hesitate to contact Curtiss & Sons.
Here at Curtiss and Sons, we have been helping people move home for over 140 years, with a wealth of moving and storage experiences as well as having a fleet of specialist vehicles, we can help with any type of move. Get in touch today for a removal quote on 023 9298 5830, our team is here to assist you with your enquiry.
House Decluttering To-do List:
Remove all unwanted items from the house.
Remove, sell, or donate unnecessary bulky items such as furniture that you don't want to take with you.
Buy packing materials such as marker pens, boxes, wrapping materials, and labels for packing, etc.
Use up food or toiletries before your house move, avoiding buying more stuff you don't need.
Notify your insurance company of your move date so you're covered for the move and in your new home.
Contact your utility suppliers and others such as TV, broadband, council tax, DVLA, etc. to inform them of your change of address.
Arrange to have your post redirected.
Pack your essentials bag for the first night at your new home.
Have a list of essential contacts for moving day – such as your Estate agent, solicitor, moving company, etc.
And most importantly, enjoy moving house and have fun living in your new home!