With remote working on the agenda for many people and households across the United Kingdom, it is no surprise many people are re-evaluating where they want to live. We were tied to living relatively close to our work, but with this barrier removed, people have greater freedom in finding a place they love to live in.
The great thing about living in the UK is that there is so much diversity on offer. No matter what interests or excites you, there will be a place where you instantly feel at home. Here are our choices of the top 15 best cities to live in the UK.
1. Bath is more than just a destination for tourists
Tourists flock to Bath each week, it is a city with great history, and it still looks impressive. However, it is also a city with a lot going on, and it is hugely well connected. If you want the best of both worlds, ensuring you can relax and unwind when you need to, moving to Bath will give you a new lease of life.
It's a cosmopolitan city which is lively and diverse in terms of social life, partly due to its excellent university and student population, and partly due to its culture and heritage.
Why move here:
Bath is consistently rated as one of the best places to live in the UK. As well as the beautiful architecture and historical appeal, Bath has many practical reasons for making it a good choice. Salary levels are above the national average, there are no 'bad areas' to avoid, and there are many excellent schools for anyone looking to start a family.
Bath is a forward-looking city too, with numerous major companies being based there. Transport around Bath is very good, with many neighbourhoods being within walking distance of the centre, and good connections provided by road, rail, and even water. Cycling is also a popular mode of transport in Bath and is well supported with cycle lanes and paths.
With all that Bath has to offer, it's not surprising that house prices in the area are above the national average, in fact, they are around double. However, there are a wide variety of budgets accounted for, from well under the national average up to several million pounds.
2. Belfast is on the rise
The capital of the north of Ireland has a more chequered history than most parts of the UK, but present-day Belfast has a story of regeneration to tell. This vibrant city has changed significantly since the 1970s, and if you enjoy being part of a burgeoning arts and culture scene, Belfast is a welcoming and affordable place to live and study.
Why move here:
The city boasts a stunning waterfront, a dynamic music scene, and a wide variety of pubs and restaurants. There are two universities in the area, and the surrounding landscape is idyllic – the green natural beauty of Ireland and castles galore.
House prices are generally lower than mainland UK, and rental prices are very reasonable too. Transport is well provided for with a good local bus service run by Metro, and the rail network connects to all the major towns in Ireland.
Belfast offers good job opportunities too and accounts for 30% of all jobs in Northern Ireland. Belfast really does offer all the benefits of living in a capital city without the price tag.
3. Birmingham is a fantastic central option
If you intend to travel a lot around the country, it is crucial to have a suitable base. Birmingham's central location makes it an obvious choice, but the city is improving significantly. The shopping options are highly regarded, and when it comes to dining and socialising, there is nothing you cannot find.
Why move here:
Birmingham has everything you could want if you are drawn to city life, from arts to events, music, shops, bars, and museums. House prices are below average for the UK, but beware, they are rising fast.
Birmingham has been on the up and up since it got a decent train station in 2015. Since then, there have also been many improvements made to the tram system, and improvement projects in the centre of the city.
Birmingham has suffered from an image problem historically, but it is a beautiful city with some stunning views, and the culinary scene is booming.
4. Bristol is the place to start something
One of the significant aspects about Bristol is that start-up businesses and thriving sectors are instantly at home here. There is a great sense of energy in the city, and if you love an artistic community, you have so much to enjoy on your doorstep.
Why move here:
Bristol is a sought-after city for many homeowners, renowned for its vibrant and diversified lifestyle, It has so much to offer. It is ranked as the second safest city in the country, a place where you can settle down for great family life.
Creative industries are especially well cared for in Bristol, and there are many grants available for digital innovation and creative ideas. And Bristol is the perfect city to boost your creativity. It has an excellent university scene and is known in the UK to be a thriving cultural hub.
Bristol also ranks third nationally for business survival rate, a measure to see the proportion of new businesses that survive and grow.
5. Cambridge is more than just an academic city
The University looms large over and above all thoughts of Cambridge, but this ensures there are many great employment opportunities. The lifestyle is charming, combining tradition with modern panache and freedom, which will delight creative and artistic people as much as it welcomes students and academics.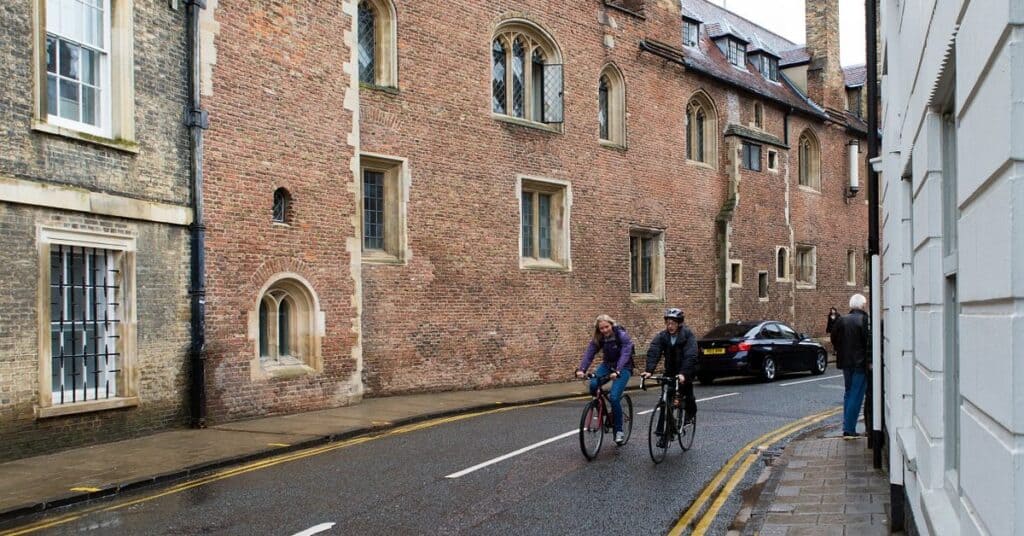 Why move here:
Cambridge offers the perfect balance between busy and productive city life and the wide-open spaces in the countryside.
Fantastic education system just around the corner.
Cambridge is a favoured centre for technology businesses, with the University being incredibly supportive of technology graduates, incubating technology companies, and offering very reasonable intellectual properties policies to academics looking to develop a business.
Anyone looking to start a business in Cambridge will enjoy the benefits of its thriving economy, the fastest growing city economy in the UK.
Employment prospects are excellent in the area too and are home to Facebook, Google, Apple, Microsoft, and Amazon, the 5 most well know tech giants.
6. Cardiff allows you to sample the best of what Wales has to offer
For many people, Wales is about rolling hills, hikes, and getting in touch with nature. By living in Cardiff, you get to enjoy the comforts of modern city living while still being closely connected to the green and great outdoors that people dream of.
Why move here:
Cardiff offers the best of both worlds. Buzzing city life, great outdoor activities, and beautiful countryside nearby.
The Universities in Cardiff are well respected, and a high proportion of students elect to stay in the city when their degree is finished. There is a lot to keep people there as Cardiff manages to strike the balance of offering everything a big city should, yet still maintaining a community atmosphere.
Cardiff began a major redevelopment over 20 years ago, and Cardiff Bay offers diverse entertainment and events, with many vibrant bars and shops creating a truly unique city atmosphere.
Cardiff is also an affordable place to live, with the average cost of buying a house around £30k less than the national average.
7. Edinburgh has a history and architecture to die for
Finance jobs might pull people to Edinburgh, but the surroundings, history, and architecture ensure people stay. The heart of Edinburgh features so many stunning local areas, and you will inevitably find a place that tugs at your heartstrings.
Scotland's capital's social life pales compared to Glasgow, but for those wanting a quieter life, the castle views are all you need!
Why move here:
Edinburgh is a walkable city, and no matter where you choose to live, you will be within easy walking distance of shops, bars, and restaurants. Many people are drawn to Edinburgh as a tourist initially but stay to simply have all that historical interest on your doorstep.
It is a safe and friendly city where it's easy to make new friends, and unlike Glasgow, has a reputation for healthy living. There is a myriad of vegetarian and healthy restaurants, and people who live there find themselves wanting to walk everywhere, and there are plenty of places to choose to walk to!
There is a concentration of film sites, sites of historical interest, and many Harry Potter sites including the café where J.K.Rowling wrote many of her books, but this intensity of riches does come at a bit of a premium as house prices are nearly £100k above the national average of £248k.
8. Glasgow is the most fantastic city in Scotland
If you are looking for a warm and friendly welcome, Glasgow is the place to be, even when the temperature is a bit cooler. The modern slogan of the city is "People Make Glasgow", and you'll love the dining, music, and art activities.
Of course, Glasgow is a city that thrives on football, with the city hosting the first British team to win the European Cup, so fans of the beautiful game will love the intensity of the city. You can't say 'Glasgow' and 'Football' in the same sentence without mentioning Celtic and Rangers of course!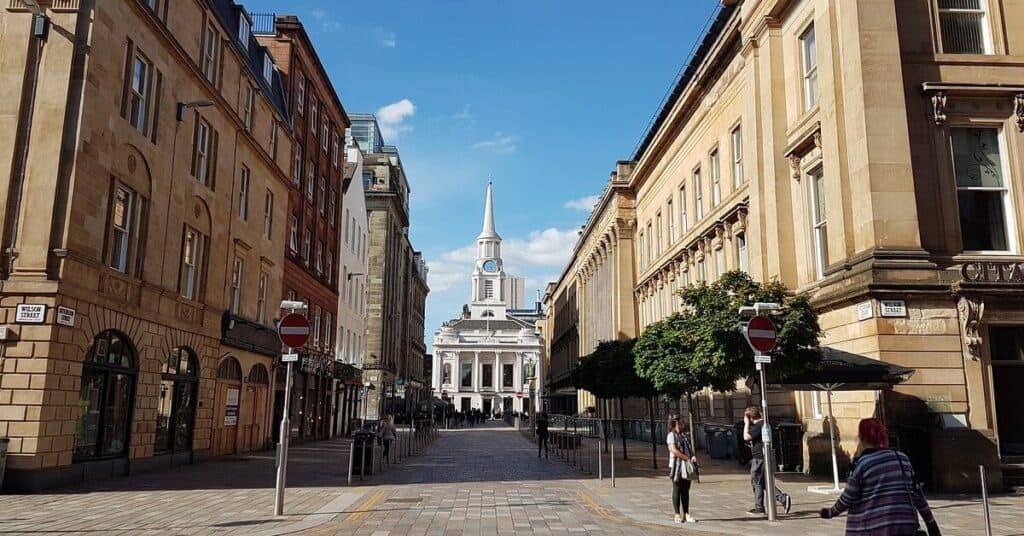 Why move here:
The cost of living is much lower than many parts of the UK, but the average earnings remain relatively high, with only London and the Southeast beating them nationwide. The average cost of a house is also considerably lower than the national average, at around £220k.
Glasgow is often touted as the best shopping location outside of London, with a good variety of malls, boutiques, and retailers all close to the city centre, which also boasts a rich live entertainment scene.
Glasgow is home to The Scottish Opera, Royal Scottish National Orchestra, and Scottish Ballet, and there are many atmospheric venues drawing in top rock and pop acts and other eclectic events.
9. Manchester has so much to answer for
A bustling modern city with outstanding educational opportunities and a thriving local economy. The Manchester music scene is known and loved worldwide, and if you crave a social life that offers endless options, Manchester is genuinely the cream of the north.
You can't think about Manchester without thinking of football and the two major teams that bear the city's name, Manchester United and Manchester City, but it's not just football that Manchester offers.
The 2002 Commonwealth games which were hosted here, left a range of outstanding sports facilities which have remained open for public use.
Why move here:
Low living cost. You can live in the city centre in Manchester for about half the cost of a similar location in London, and commuting is much cheaper too, a monthly Metro card costing around £60, £80 less than a similar pass in London.
The sporting capital of the United Kingdom.
Thriving art and culture environment. Manchester is flourishing with theatre, history museum, cinema, live music, art gallery, and more!
10. Leeds is a city for the young
Leeds has developed as an excellent city for landlords, given the high demand for rental property, making it fantastic for first-time buyers. This is a city geared to the young, with transport in and out of the city centre offering quick and easy access to a wide range of entertainment options.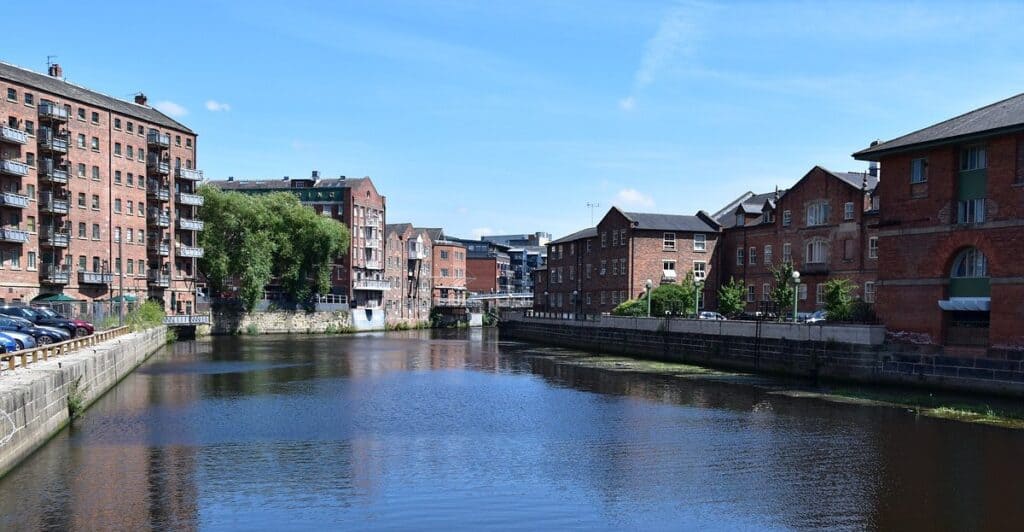 Why move here:
Leeds is home to 3 well-respected universities, so student life is well catered for.
Leeds is a highly multi-cultural city, with affordable rent and lower-than-average house prices.
Wonderful nature just by your doorstep. With the Yorkshire countryside a stone's throw away, Leeds residents can step outside of the bustling metropolitan centre straight into some of the most beautiful scenery the UK has to offer.
11. Liverpool has everything you need
Home of The Beatles, in many ways, Liverpool has it all. It is a city with tremendous culture, and its history blends seamlessly with new developments.
Many people are oblivious to the beauty of the city itself. Cities like Bath, Cambridge, York, or Edinburgh naturally spring to mind in terms of architecture and historical interest, but Liverpool absolutely deserves to be held in the same regard.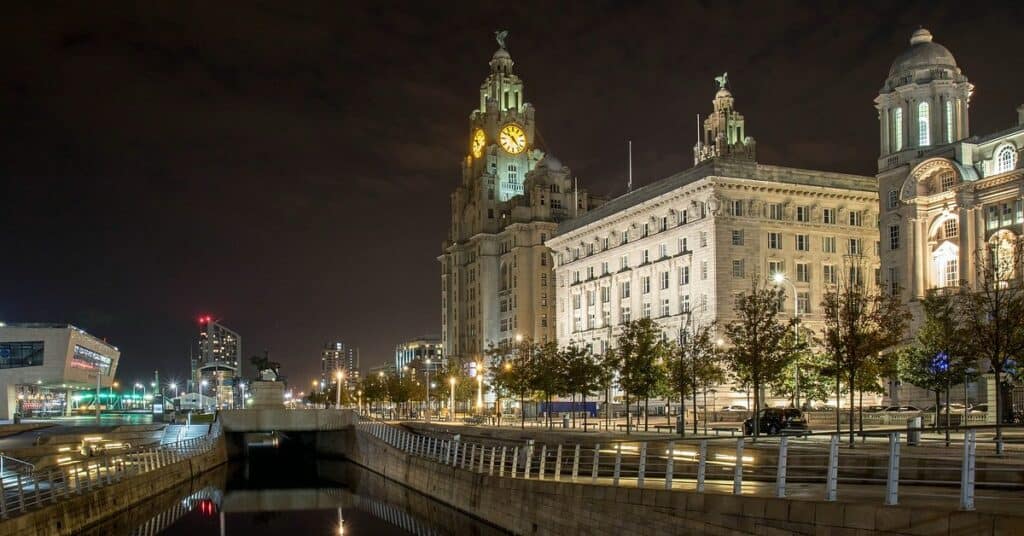 Why move here:
It is home to numerous stunning heritage sites, including the Royal Albert Dock, Pier Head, and the Ropewalks area.
As well as having all the usual attributes of any major European city, you will also find Liverpool a highly affordable place to buy or rent a property. You can live very well on a salary of £30k a year, a standard of living which in many competing cities would need an income of £48k.
There is also plenty of green space to explore, offering 43 parks, the largest of which being Sefton Park in the centre itself, with its 235 acres of parkland.
The city's nightlife is well known, but Liverpool can also genuinely be heralded for being the spearhead of modern art and culture. The Waterfront is home to a range of incredible galleries, from The Tate Liverpool to FACT – a unique digital art exhibition.
12. London will always have it all
Even if remote working becomes the norm and people no longer need to work in The City, London will always appeal. There is so much happening in the English capital that people are drawn to the excitement and buzz. With each area feeling like a small town or village, the trick is to find the spot where you connect with others and make a base that feels right for you.
London is one of the most multicultural cities in the world, with a third of its population being born in another country. This reflects in the unbelievable choice of restaurants, you never have eaten in the same place twice, and could probably try different types of cuisine every day of the year if food is your thing.
Why move here:
London has historical significance dating back 2000 years to Roman times when it was called 'Londinium', even though there is evidence to suggest that there may have been settlements there over 4000 years before that!
Hand in hand with the heritage, London remains firmly in the frame as one of the most important cities in the world. It is one of the 'Big Four' fashion capitals, with London Fashion Week launching the career of many of the world's most well-known designers and models, as well as setting the tone twice a year for what we should all wear!
London is the third most popular tourist city in the world, with nearly as many visitors as Paris and Bangkok, and there's no shortage of things to do and see for visitors and residents alike.
Tourists are naturally drawn to big attractions like Buckingham Palace, The Tower of London, Harry Potters Warner Brothers exhibition, The London Eye, or The Shard, but many don't realise that London is 40% parkland, making it easy to find somewhere more relaxing when you want to unwind.
It goes without saying that retail is a huge part of London's appeal, but it's probably better than even its reputation suggests. According to the Global Shopper City Index, London has by far the best range of shops in the whole of Europe.
The city is also renowned as one of the world's most international and connected financial centres, coming in a close second place to New York.
All of this is held together by London's incredible transport system. The London Underground is both the oldest and third largest metro system in the world; by the length of track (after Beijing and Shanghai) with 402km of track, and 270 stops serving nearly 1.4 billion passengers a year.
The city also has an excellent taxi and bus service.
13. Sheffield is great for young professionals
Sheffield is another city with a substantial student population, and as such, it is another fantastic option for young professionals making their way onto the property ladder. There is a fine music tradition in Sheffield, and this remains intact today, as do the options for socialising, dining, and entertaining.
Why move here:
Sheffield grew out of the Steel Industry and was in fact known as the 'Steel City' but today it has transformed into a much greener place with 4 trees per person, 80 parks, and over 600 designated green spaces, making it one of the greenest cities in Europe.
Sheffield is now known as the 'Outdoor City' with its proximity to the Peak District, celebrated as an area of outstanding natural beauty where many enjoy walking, fell running, and climbing.
House prices are highly competitive in Sheffield at around £220k. However, they are rising quickly as the value of the property market is increasing. According to a recent forecast from Savills, property values are expected to rise by an average of 4% across the country; and by 21% before the end of 2025.
14. Southampton offers coastal city living
Southampton has many of the usual city attractions that you would expect, from a rich heritage steeped in history all the way from Norman times to World War 2, plenty of green, open spaces, universities, nightlife, art, and culture.
Why move here:
Southampton is known for its great student life and a port city with great music, art, entertainment, and sports, as well as excellent social amenities.
What may set it apart for you is if your idea of a perfect home is to live by the sea. The coastal city of Southampton is an interesting and appealing choice.
You may not know that Southampton is actually one of the greenest cities in the UK, with over 50 green leafy parks around the areas for the residents to enjoy.
House prices are on the steep side at over £300k, but when it comes to moving house to a nicer neighbourhood, this is one of the best cities you'll find.
15. York has a unique charm in a region that keeps things real
York has undergone a quiet transformation in recent years, with the city becoming a haven for independent small businesses. If you feel High Streets are the same everywhere you go, York might revitalise your flagging spirits. And, of course, with Yorkshire hospitality and a great pint, you will receive a warm welcome.
York Minster sits in the centre of the city, in all its resplendent glory, and the medieval streets are peppered with beautiful buildings and attractions.
The wall that encircles the city dates to the thirteenth century and is open to walk around during daylight hours (when snow or ice do not present a danger).
Go back in time further to the ninth century, and you can still see the Viking influence in many of the street names in York and enthuses archaeologists to this day.
Why move here:
A highly desirable place to live with easy access to some spectacular countryside.
York is a very commutable city that provides easy and fast transport links to London, Leeds, Newcastle, Edinburgh, and other destinations.
According to Rightmove, York is the 8th most popular destination to move to in 2021.
House prices are on the high side at an average of over £300k, but all that charm and character comes at a price.
Choose your next move destination and enjoy your new life!
Moving home is one of the big decisions you will make in your life, it can be a very exciting experience, but it can also be stressful. Getting help from a professional removal company to help you move will make your life much easier for the moving process.
We hope that this article has given you some great ideas for your next move's destination, hopefully, it helps you make the best decision and start enjoying the new life you deserve.