Curtiss & Sons are proud members of Referenceline.
This outstanding website offers an excellent space for customers to share their honest reviews, images and pricing.
As a company that care what our customers think, we feel it is imperative to offer a trustworthy space for honest feedback and reviews.
Referenceline is the perfect place for this!
So, what is Referenceline and what makes it so great?
Founded in 1997, Referenceline has evolved from its newspaper origins to fully utilise the capabilities of the internet.
Referenceline works in tandem with Trading Standards and numerous professional bodies, including BAR (the British Association of Removers).
Whilst there is no perfect system for screening companies, working in collaboration with these bodies ensures that customers have a far greater understanding of the businesses they are working with.
Authentic Reviews
The website allows customers to leave unedited handwritten reviews of their experience with the company, including Curtiss & Sons.
Each of these handwritten reviews are approved by the customers who wrote them, ensuring you will have access to the most honest reviews possible!
Referenceline guarantees you have access to honest, authentic reviews, which is a big must when choosing a removals company.
This will give you peace of mind that you are dealing with a reliable and trustworthy company.
Search For Your Budget
Referenceline is the perfect tool to assist you when choosing a removals company.
The in-depth reviews on the site also allow you to match reviews to your personal budget!
Each review that a customer leaves on Referenceline details the budget for their move.
This ensures that all future customers have a clearer idea of whether the business offers services that suit their budget.
Lots of companies on Referenceline are open to a diverse range of work.
It is therefore important to consider your specific requirements.
Check Referenceline to see if the company has the experience to meet your needs.
From here you can take a look at the reviews from customers in your budget range.
This will provide you with a particularly well-rounded view of what you can expect to pay!
Search For Similar Customers
Another excellent feature of Referenceline is the ability to search for reviews submitted by similar customers to you!
Each reviewer is asked to share something distinctive about themselves.
This ranges from their age, gender, level of experience and any experience they have had with the company.
By submitting this information, potential customers can match up to their own information.
This helps to give you the best insight into your potential removals company!
Our Latest Reviews
As you can see, Referenceline is an excellent tool to gather a better understanding of whether to choose a company or not.
But don't just take it from us!
Here are a few of our most recent reviews which you can find on Referenceline here.
"Very fast, polite workers. Arrived on time to load and took time to protect all possessions.
Arrived on time to deliver next day as long-distance move and offloaded quickly and efficiently with good care of the property.

Very pleased with the company and the guys who moved us, great job.

Thanks very much, great company and thanks to two very hard-working guys who moved us"
"We cannot praise our movers enough. Firstly, at short notice, they agreed to change the itinerary.
My wife is disabled and needs her own bed so when we heard that they were expecting to pack everything on day one, we were worried about overnight accommodation.
At the last minute, the crew and manager agreed to return on day two for final packing.
We were concerned that the very (!) large truck may have difficulties on the narrow Devon lanes but Andy, the driver, made it look easy.

On arrival, the previous owners hadn't vacated the property.
Andy and Callum worked around them to ensure we were able to unload in a reasonable timescale.

We don't intend to move house ever again but in the unlikely event, we would certainly approach Curtiss again."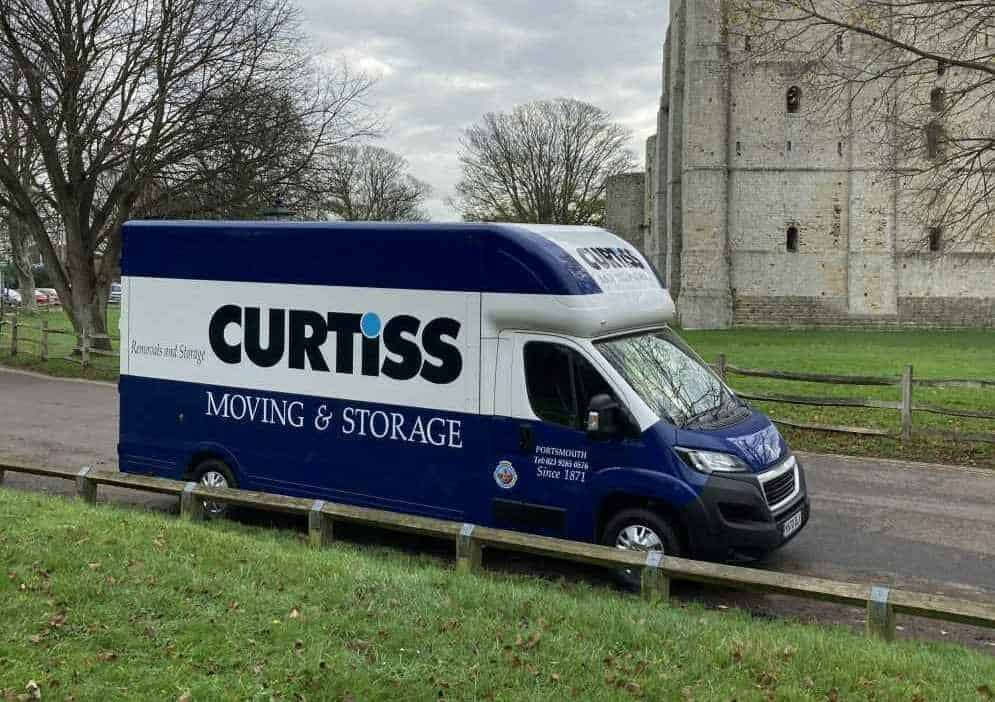 Thinking of Moving Soon?
If you have checked out our reviews on Referenceline and are ready to move, we are here to help you get your new journey underway.
Here at Curtiss & Sons Portsmouth, we are an experienced and professional removals company that has been helping people moving home since 1871.
If you need help and advice on moving your home or perhaps some questions about your house removals, you can get in touch with us on 023 9298 5830 and our friendly team is here to assist you with your enquiry.